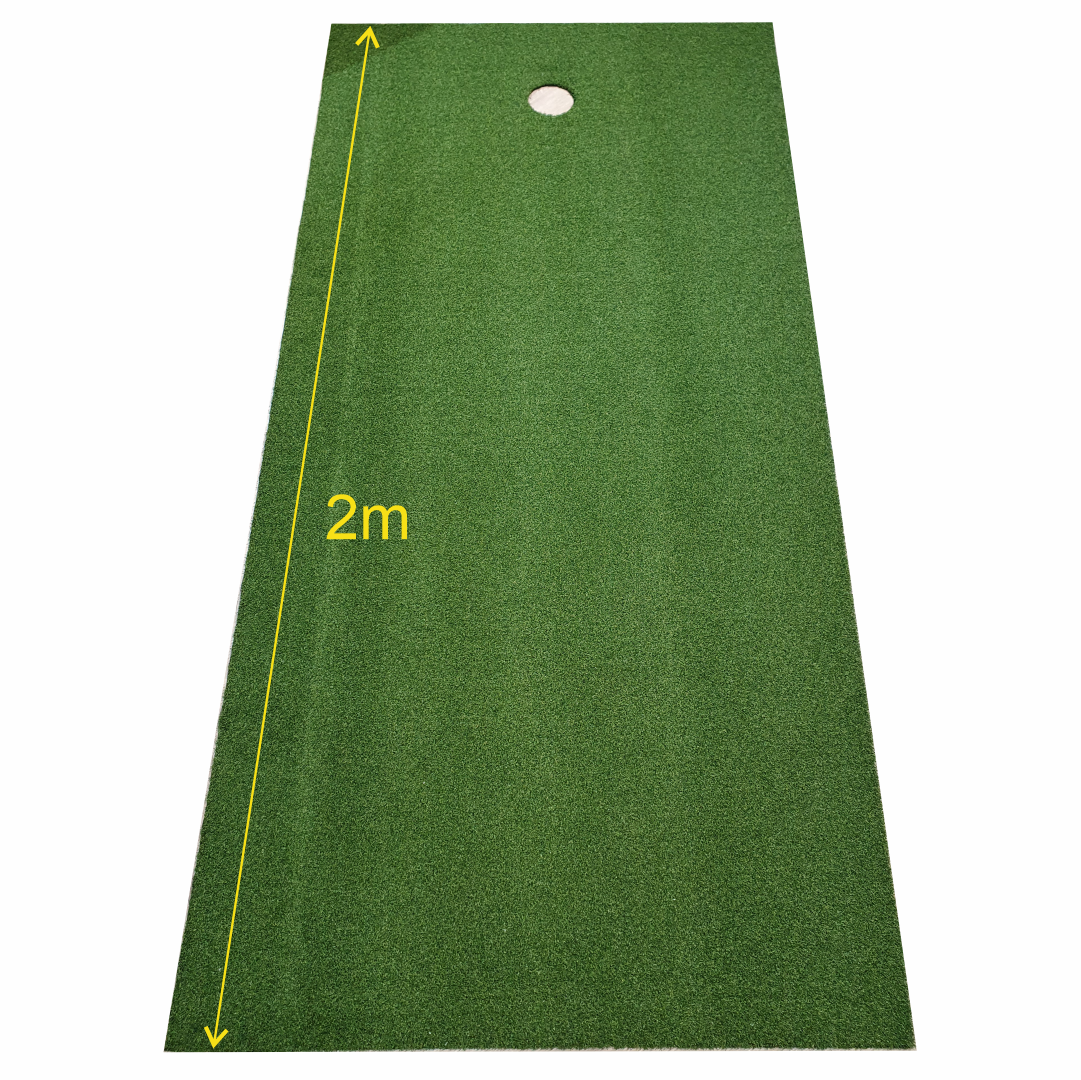 Professional putting mat - 2m x 1m
✔️ 85,000 knots
✔️ Absolutely realistic running characteristics
✔️ high directional stability
✔️ without printed lines etc. - this is the only way to train realistically
Professional quality golf putting mat

Our professional putting mats are made from polypropylene fibers and are unlike any other putting mat on the golf market. (The same material is laid on indoor putting facilities.) The best qualities on the market have a density of 80,000 stitches (knots) per square meter. Our mats have over 85,000 knots. The mats are water-permeable and UV-resistant, making them ideal for outdoor use. The putting mat offers a completely authentic rolling behavior with very high directional stability. Many cheap mats are too fast and the running behavior is not comparable to a real green. On a real green, there are just as few lines to control the backswing movement or as an aid to aiming, as there are on our mats. Mats that are too narrow therefore offer an aiming aid through the edges. For this reason, our mats have a width of 100cm.

The mat has a hole with a diameter of 100mm. In this way, you train for an 8 mm smaller hole with a higher level of difficulty. If the ball is holed, it should not run out over the back edge. The ball has the ideal speed when it stays in the hole.

There are many putting mats with lines, markings, etc. printed on them on the internet. There are also no lines on the green, so training with lines is suboptimal. No professional trains with these "cheap mats" with unrealistic running properties.
Estimated delivery times:

Germany: 2-3 working days

Austria: 2-4 working days

EU countries: 2-6 working days

Shipping costs are calculated at checkout. Shipping in DE is free of charge from €99 .
With you in 2-3 days. From 99€ in Germany free of charge.
Are you not satisfied? No problem!