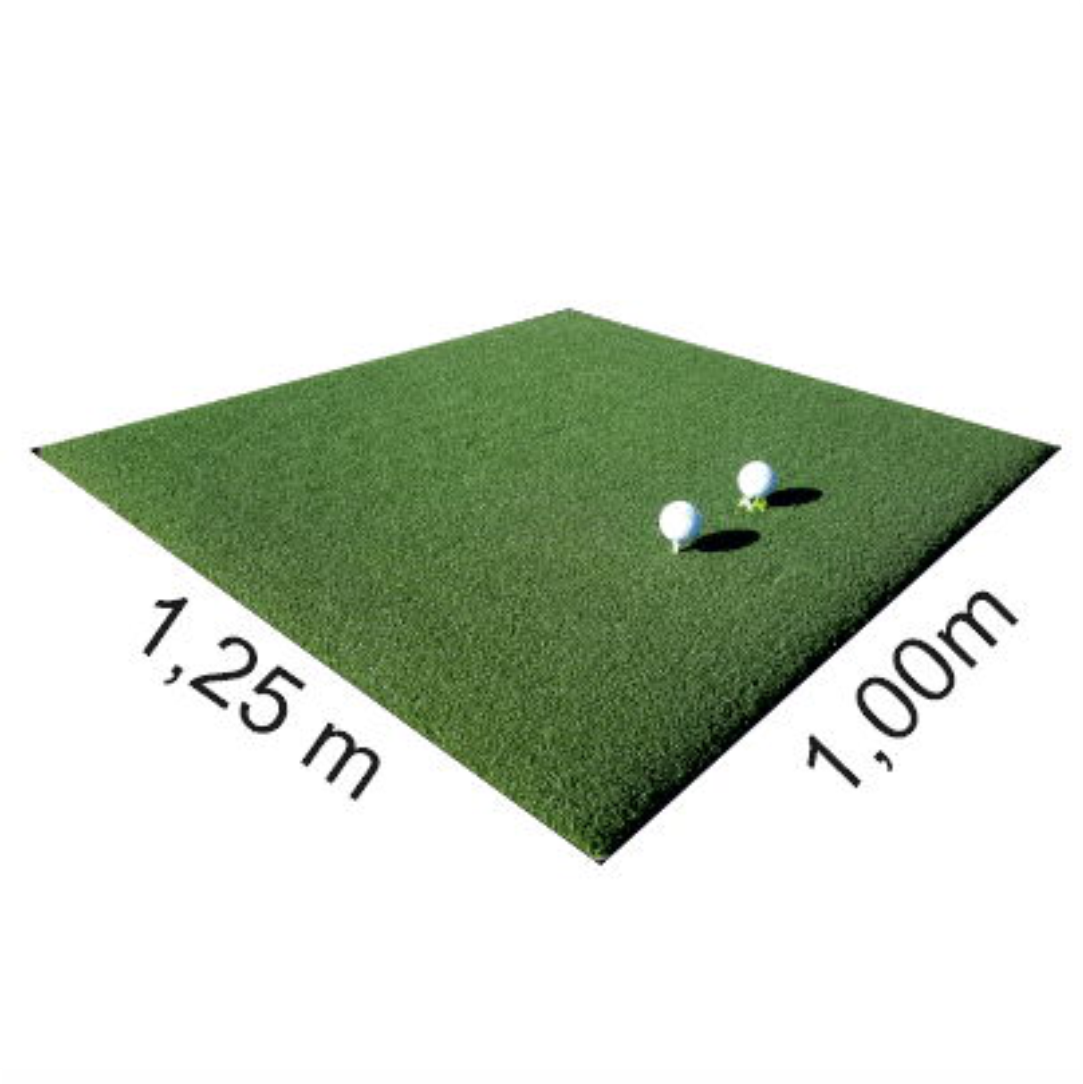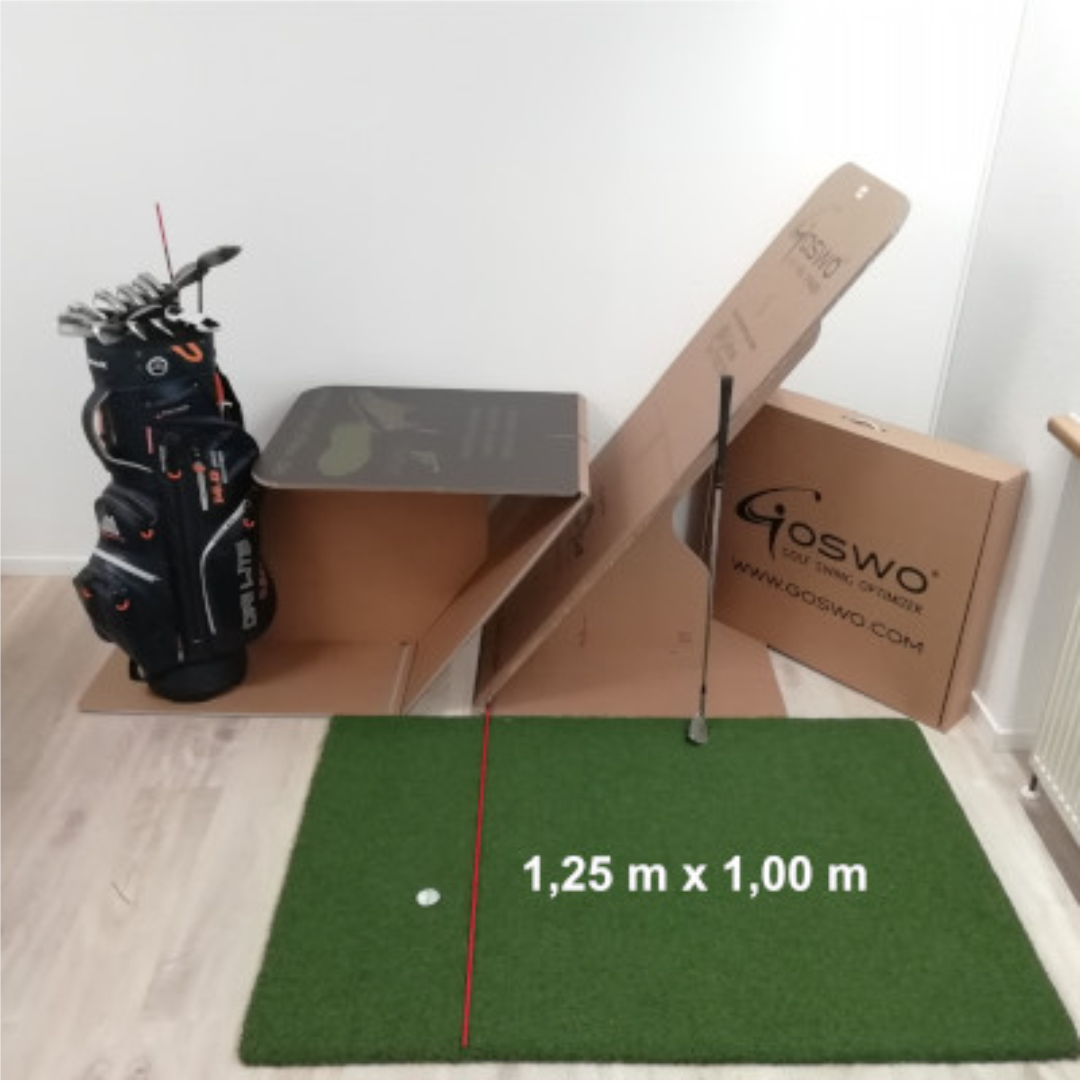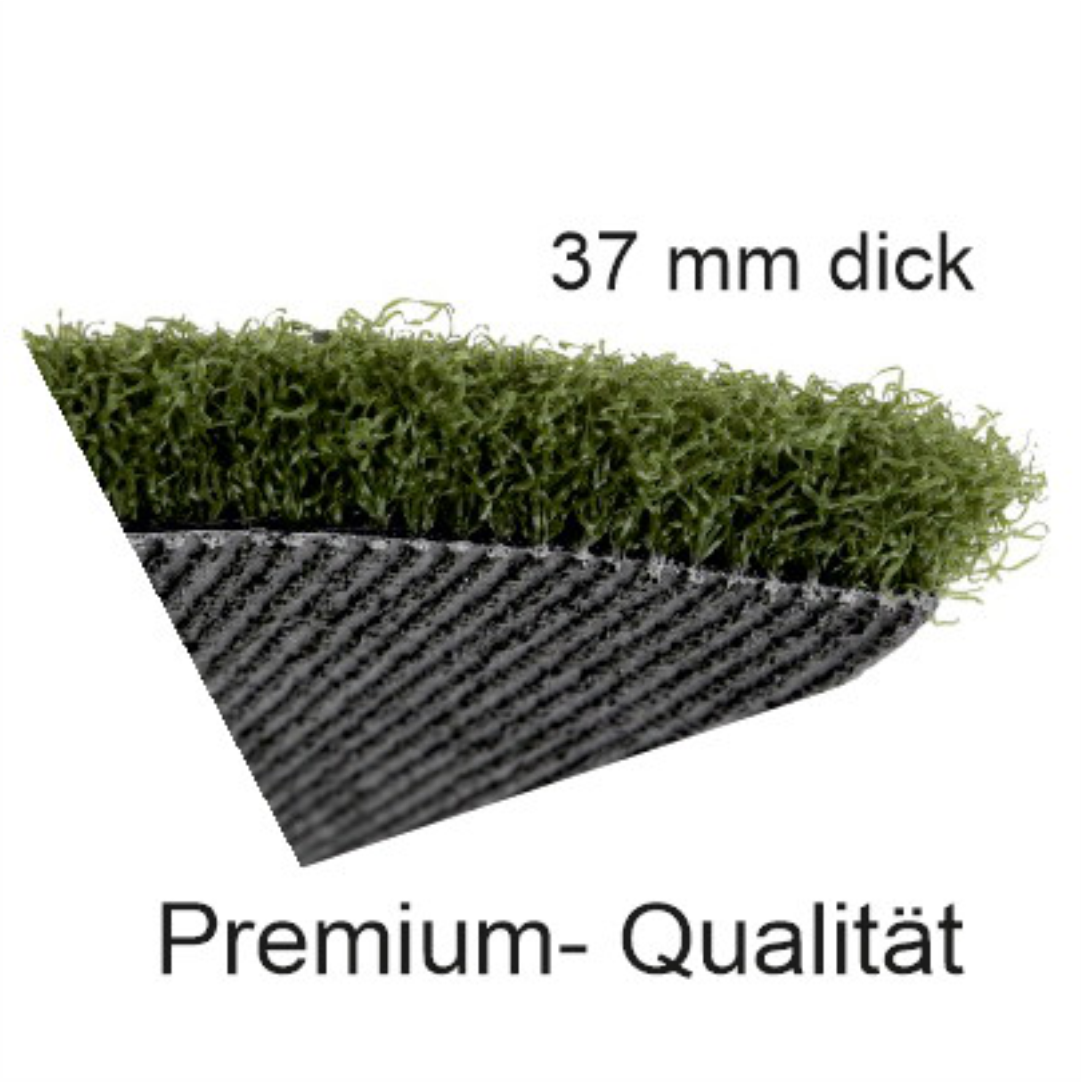 Professional golf tee mat
✔️ Can be used indoors and outdoors as it is water-permeable
✔️ high floor is easy on the wrists and gives great feedback
✔️ Tea can be plugged in
✔️ with 1.25 mx 1.00 m sufficient floor space for driver training
✔️ Professional quality
Golf tee mat in professional quality

A google search for golf tee mats yields a hundred different products at a hundred different prices. The difference between an expensive golf tee mat and a no-name cheap tee mat for golfing quickly becomes clear.

The cheapest golf tee mats are not worth "carrying home" and are usually slightly better grass carpets. The ball then lies on a "green something" and after a few hits that are too fat, the mat is destroyed. We sell the quality that is also used on golf courses.

Professional golf tee mat for winter training

A golf tee mat with a higher floor and a reasonable quality is therefore recommended for winter training. Thus, the tee mat for golf can be used in a variety of ways. It is assumed that the mat is on a solid surface. This is the only way to ensure a stable stand. Pitching and chipping can also be practiced with soft balls on the tee mat.

The golf tee mat can be used indoors and outdoors because it is absolutely water-permeable. Even chipping training in the garden is possible. Due to its high weight, it is not absolutely necessary to fix the mat.

Size / Sufficient footprint at the golf tee

The size of the hitting mat is sufficient to allow flexible ball positioning. This is not possible with the small tee strips. We chose the size of the mat so that the player can stand on the mat even when driving off with the driver. We advise against using smaller mats (only for ball positioning), because these mats are moved during the shot and have to be fixed. Most mats are 1.5m x 1.5m and far too large for home use. You pay for too much space that you don't use.

Another benefit of the mat is the ability to practice tee shots with conventional tees. The high density of the artificial turf fibers gives very good feedback. Any ball hit too fat or too thin will be forgiven. Balls that are hit too hard are felt much harder on "cheap mats" and are not recommended for golf beginners. Investing in a professional tee mat is guaranteed to pay off. Better feedback and easy on the joints when hitting too deep or hitting balls too fat.

The advantages at a glance:

Can be used indoors and outdoors as it is water-permeable
high floor is easy on the wrists and gives great feedback
Tea can be plugged in
with 1.25 mx 1.00 m sufficient floor space for driver training
professional quality

To the product specification - NEW!!!!!!!:

Pile Height: 35-37mm
Fiber Mass: 7300 Dtex
Fiber Type: 100% Nylon
Stitch rate: 4.19 cm
Roll Width: 4.6m
Primary backing 237 g/m² stabilized dual layered
woven polypropylene: secondary backing 678 g/m² urethane

Curled straw length of 35 / 25mm made of nylon fibers. The very high
Density of the fibers ensures that a tee can be inserted (inserting the tee
is not part of the warranty).

Also for shots with short, medium and long irons, without infill. Low-damage surface
Softer and more durable than basic driving mats. Infill not required.
Areas of application:
Professional product for driving range tee lines, winter tees, golf course tees
Estimated delivery times:

Germany: 2-3 working days

Austria: 2-4 working days

EU countries: 2-6 working days

Shipping costs are calculated at checkout. Shipping in DE is free of charge from €99 .
With you in 2-3 days. From 99€ in Germany free of charge
Are you not satisfied? No problem!